Perroquetsecours Wanted Notice
Date : Sept. 21th 2014
Status : Lost
Species : Budgie
Bird's name : Marie-Lou
Distinguishing Characteristics :
Location, Country, State, Province, City : Riverview, NB
Street, intersection, area : on the south shore
Band or microchip ID :
Details :
Contact phone : 450-567-8765
Contact email :
avisderecherche@perroquetsecours.com
Original Listing URL :
http://www.kijiji.ca/v-lost-and-found/m ... nFlag=true
Listing from : Kijiji
Quote :
She is two years old.

Her name is Marie-Lou.

She is White with Blue and Grey accents (see photo for multiple angle views).

She is shy but will most probably recognize her name when called.

She is probably nervous since she was always living inside the house or the gazebo.

Should you see her, please contact Martin at ...

I will come right away to get her since she will probably be happy to see me and fly right towards my arms for security (after all, I have been taking care of her since she was an egg
Picture or poster :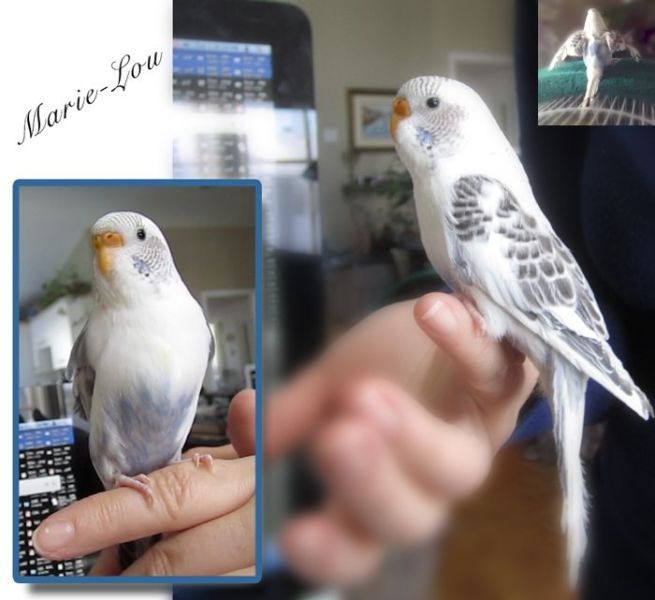 Perroquetsecours will automatically send to whom it may concern and as soon as possible, all information received as relevant that could lead to the reunion of this bird with its owner. Contact the original listing URL or contact Perroquetsecours at :
Avisderecherche@perroquetsecours.com
If this an urgent matter contact :
450-567-8765
Confidential Information :
viewtopic.php?f=413&t=12492
To follow the bird's historic, visit the following URL :
The owner offering a reward does on its own initiative. Therefore, Perroquetsecours shall not be held responsible or liable for any payment regarding any reward offered or implied by anyone in any advertisements or articles published on its website or any other partner sites.